Sushi Catering In Boxborough
Offersushi is your one-stop sushi caterer based in Boxborough, Massachusetts. Our chefs come right to your kitchen to create beautifully prepared sushi for you and your guests.
Contact Us
My Story
I believe that – behind every success or failure – there is a good story to share and a lesson to learn. I am Ryan, the sushi chef, and owner behind OfferSushi. Making delicious sushi rolls is more than a job to me; it is a passion project. I can vividly recall the first time I made sushi. I questioned if I could do it and whether I would enjoy the experience.
For many years, I worked alongside a Taiwanese chef and every time I watched him create sushi, I asked myself: "Am I ever going to be able to make sushi like him?" This chapter in my life marks the continuation of this story…
Sushi Chef In Boxborough
Are you looking to hire a sushi chef in Boxborough for your events, parties, or special occasions? You're in the right place. We have spent the past 11 years skillfully preparing sushi and offering catering services throughout Massachusetts. We will come to your location to help create a magnificent event for you and your guests that will be remembered for many years to come.
The sushi catering services we provide at OfferSushi are world-class. In terms of process, we come to your event location with all the ingredients required for the dishes you've selected. We work closely with you to customize your experience, armed with our expertise and high standards of excellence.
OfferSushi is led by one of the best sushi chef's in Boxborough Ryan Pellumbi. Not only is he seasoned, but he is also extremely good at what he does. You simply need to try us to know that we should be your go-to choice for an unforgettable, tasty experience.
We invite you to call us at 508-450-9063 so that you don't miss out on this incredible experience that we bring to each of our clients.
What Do We Offer?
Are you looking for something fun, exciting, and different? Are you tired of parties that feature BBQ hot dogs, burgers, or pizzas? We offer sushi catering services in Boxborough for birthday parties, weddings, bachelorettes, office functions, and golf club events. We also offer sushi classes, so why not skip the tired dinner and a movie date and come try something new?

Sushi Catering for Corporate Events
We provide sushi catering for corporate events, meetings, and more.

Sushi Catering for Birthday Parties
Surprise birthday parties are one of the most common events we cater to.
Sushi Catering for Weddings
Impress your wedding guest with our sushi catering service. Wedding days can (and should) be special for everyone, so why not choose the best menu possible to wow and delight your guests?
Sushi Catering For Golf Clubs
For over 10 years, we have catered for the biggest and most renowned golf clubs in the state, including the Pine Brook Golf Club (in Weston); the Wollaston Golf Club (in Milton); the Nashawtuc Golf Country Club; and the Aquidneck Club (in Rhode Island).
Sushi Making Classes
We offer sushi classes for anyone who wishes to learn how to make real, authentic Asian sushi at home for their family and friends.
Sushi  Catering For Bachelorette Parties
Bachelorette parties are even more fun with sushi. Call me today so that I can help make your bachelorette party a unique and memorable experience with a customized menu.
Our Prices
No sushi party is too large or too small, we provide the best affordable prices for sushi catering around Boxborough and all over Massachusetts. 
Sushi Packages
Package 1 "Less than 10 people" $500 (as much as you can eat)
Package 2 "10 people to 20" $ 50 per person. (as much as you can eat)
Package 3 " More than 50 people" Negotiable with the chef.
Sushi Making Classes
 "Sushi Classes for all Occasions" for anyone who wishes to learn the art of sushi making. ($50 per person or $500 for 10 or less than 10 people)
I will personally come to your home/office/venue and I will teach how to make sushi with hands-on training. You will get to have a chance to learn all the basics of sushi making starting from ingredients and how to make sushi rice. I will share my secret tips, answer your questions on sushi making and everything you want to know about sushi. Book Your Sushi Class Now!
Note: I do not provide the place/venue for this sushi-making class.
All Packages Include
A chef to create custom sushi pieces and rolls at your event, a sushi bar, utensils, sushi rice, and basic fish selections are provided. You may select specific sushi rolls from our menu or leave the selection to the chef.
Sushi rolls are prepared in front of your guests. There is no limit to the number of rolls served. We do not charge by the piece, only by the number of guests. Your guests will enjoy a uniquely pleasant and unforgettable experience.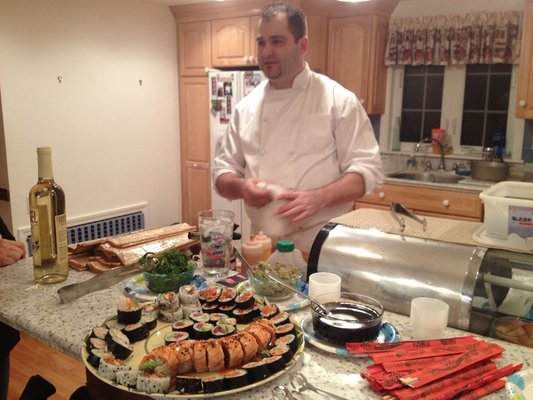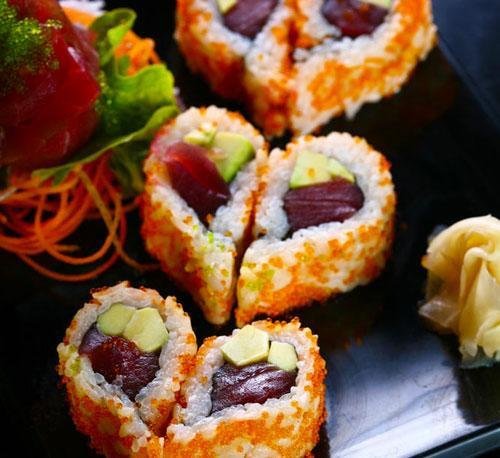 Let's Work Together!
Your Home Our Sushi Bar, Let's Party With Sushi Together!